About OHP
OHP Food Products Pvt. Ltd. was incorporated in 1999 with a clean cause to serve food industry segment. The company name itself depicts moral values as the name of the company is based on the name of the family members. The Company is serving its clients with a cumulative experience of more than 100+ years. A team of highly experienced and technical members are jewels of the company.
About Hemant Arora
He is an IT professional, a visionary leader, thinks ahead on Planning, Project Management, Spotting Business Opportunities, Implementing Plans and Market Intelligence. He has been guiding new young entrepreneurs since 2009 in India and overseas. His utmost skill of team bonding adds on special values always. He has always been guiding force to many entrepreneurs and is into the flow for more than twenty-two years and still counting.
OHP Journey Till Now
The first venture of the company was to produce biscuits. The company initiated with a biscuit plant in Bhiwadi, Rajasthan with a capacity of 7200 MT PA. During biscuit journey the company worked with different Multinationals. Got the compliment of youngest entrepreneur from Britannia in 2005.The Company produced biscuits on job work basis for different companies and earned so much of experience along with special edge on costing part. Due to the Government policies, the company switched to consultancy business and decided to share the vast experience with upcoming as well as existing companies.
Key Strengths in Consultancy Business
The company has three major remarkable strengths, A) Giving solution on turnkey basis for upcoming units of different promoters. B) Complete guidance and solutions for various Government subsidies, C) Complete solution for FSSAI including legal too.
While rendering services for turnkey projects the company takes responsibility to guide right from thescratch /beginning (Selection of land)to final commercial production.
While doing the project the company specifically aims at getting the best available financials incentives from state or central Government to the client.
The company has competent team and enough knowledge and experience in such field. More than 100 subsidies has already been done till now.
The company has great strength in dealing with FSSAI matters. The company is working on panel, with different companies for FSSAI matters, for more than 8 years. The company not only gives proper insight on sample handling rather the company let the clients be aware of their rights in case of any legalities. The company has competent lawyers on panel for this specific jobs.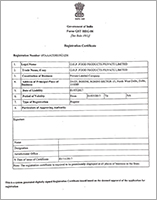 Read More